The Handling Materials and Function of Flotation Cell:
Flotation machine (also called Flotation separator) is applicable for the separation of nonferrous metal and ferrous metal and nonmetal, such as fluorite and talc, Handling Materials: Quartz, gold, silver, copper and iron ore etc. non-ferrous metals, ferrous metals, coal, fluorite, talc, lead, zinc, molybdenum, aluminium ore and other metal ores. quartz stone, the flotable gold, silver, copper.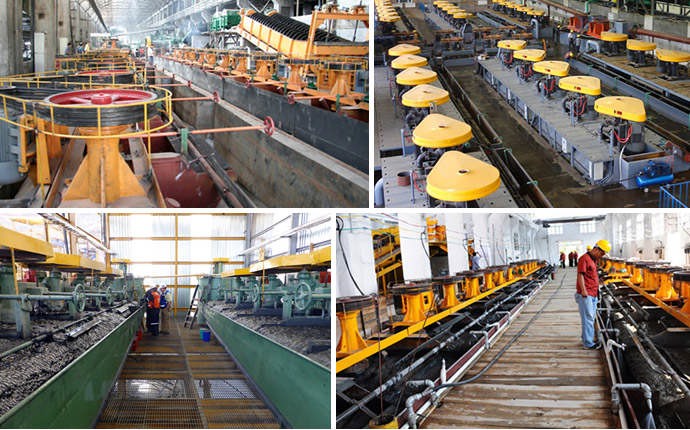 The Operating Instruction on Flotation Cell:
To check the bolts before starting the machine and to use hands instead of impellers to prevent the sediment from adding the burden of electromotor.To adjust the height of strobe carefully to keep the stabilization of liquid level and scrape the mineralized froth to the launder. The impellers and stators should have a distance and should be changed when they are worn. The bearing in the pump should be maintained every three months.
The Working Principle of Flotation Cell:
When flotation machine works, slurry is inhaled from the bottom of the trough to the space between impellers. Meanwhile, the low pressure air sent by fan is sent to this area through the air distributor in the hollow shaft. After sufficient mixing, the slurry is pushed out by the impeller, and then goes to the whole trough. When the froth rises to the stable level, after the enrichment processing, froth overflows to the froth trough from the overflow weir. Another part of ore slurry flows to lower part of impeller for the remixing with air. The remaining slurry flows to the next trough until it becomes residue.
Technical Parameter
Category
Specification
Model
Effective
cubage
(m³)
Processing
capacity
(m³/min)
Main shaft loam board
Dimensions
(L×W×H)
(mm)
Single
trough
Weight
(kg)
Power
(kw)
Rotate
speed
(r/min)
Rotate
speed
(r/min)
Power
(kw)
XJK type
flotation
machine
XJK-0.35
0.35
0.18-0.4
1.5
483
25
1.1
700×700×700
460
XJK-0.62
0.62
0.3-0.9
3.0
400
25
1.1
900×820×850
980
XJK-1.1
1.1
0.6-1.6
5.5
330
25
1.1
1100×1100×1000
1390
XJK-2.8
2.8
1.5-3.5
11
280
25
1.1
1750×1600×1100
2430
XJK-5.8
5.8
5-7
22
240
25
1.5
2200×2200×1200
3533
SF type
flotation
machine
SF-0.37
0.37
0.2-0.4
1.5
386
25
1.1
700×700×750
468
SF-0.7
0.7
0.3-0.9
3
400
25
1.1
900×820×950
990
SF-1.2
1.2
0.6-1.6
5.5
330
25
1.1
1100×1100×1100
1873
SF-2.8
2.8
1.5-3.5
11
268
25
1.1
1750×1600×1150
2538
SF-4
4
2-4
15
220
25
1.5
1850×2050×1200
2838
SF-8
8
4-8
30
191
25
1.5
2200×2900×1400
4129
SF-10
10
5-10
30
191
25
1.5
2200×2900×1700
4486
SF-20
20
5-20
30×2
191
25
1.5
2850×3800×2000
9828
JJF type
flotation
machine
JJF-2
2
1-3
7.5
443
25
1.5
1400×1400×1100
1670
JJF-4
4
2-4
11
305
25
1.5
1600×2150×1250
2350
JJF-8
8
4-8
22
233
25
1.5
2200×2900×1400
4500
JJF-10
10
5-10
22
233
25
1.5
2200×2900×1700
4820
JJF-16
16
5-16
30
180
25
1.5
2850×3800×1700
8000
JJF-20
20
5-20
37
180
25
1.5
2850×3800×2000
10500