The Handling Materials and Application of Hammer Crusher:
Hammer crusher (hammer mill) is applicable for various hard and fragile materials, such as limestone, coal, salt, gypsum, alum, brick and tile, etc. The crushing compressive strength of materials should not be in excess of 150 Mpa. Hammer crusher is mainly used in industries such as cement, coal separation, electricity generation, building materials and compound fertilizer, etc. And hammer crusher can crush materials with different sizes into equal particle, which favors the next procedure.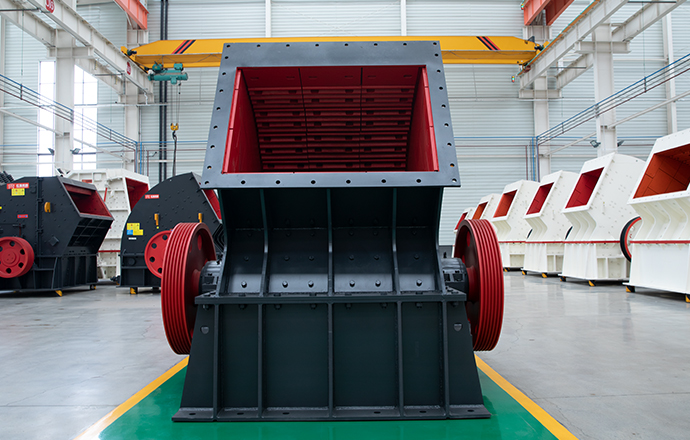 The Advantages and Benefits of Hammer Crusher:
1. Big reduction ratio: maximum feeding size is 1.3-1.5m; 3-150mm of discharging size.
2. High fineness of discharging size: favorable shape with aggregate, the powdery material is no more than 20%.
3. Simple process: the two or three stage crushing is reduced into single stage.
4. Economical: small capacity of matched motor, which greatly reduces the production cost.
The Working Process of Hammer Crusher:
In the hammer mill machine, the motor drives the rotor to rotate at a high speed through the belt, and on the rotor there are series of hammers. When the materials get into the working area of hammers, the rotating hammers with high rotation speed are crushing them; the crushed products meeting the required size can be discharged by the outlet and become the final products; the large size products are brought back to the crushing area by the hammers for being re-crushed until they reach the required size.
Technical Parameter
Model
Specification
Feeding
Size
(mm)
Discharging
Size
(mm)
Capacity
(m³/h)
Motor
power
(kw)
Total
weight(t)
Dimensions
(L×W×H)(mm)
PCΦ400×300
≤200
≤25
5-10
11
0.8
900×670×860
PCΦ600×400
≤250
≤30
10-22
22
2.26
1200×1050×1200
PCΦ800×600
≤250
≤35
18-40
55
4.8
1310×1180×1310
PCΦ1000×800
≤350
≤35
25-50
75
5.9
1600×1390×1575
PCΦ1000×1000
≤350
≤35
30-55
90
8
1800×1590×1775
PCΦ1200×1200
≤350
≤35
50-80
132-160
19.2
2060×1600×1890
PCΦ1400×1400
≤350
≤35
50-100
280
32
2365×1870×2220
PCΦ1600×1600
≤350
≤35
100-150
480
37.5
3050×2850×2800