The Handling Materials and Description of Magnetic Separator:
The Magnetic Separators are available in cyclic design with process vessel diameters smaller than 3mm. Wet Magnetic Separator is one kind of efficient equipment for processing fine, feebly magnetic minerals, such as hematite, limonite, wolfram, ilmenite, and tantalum-niobium, etc. In recent years, it is also more and more applied in purifying quartz, feldspar and nephline.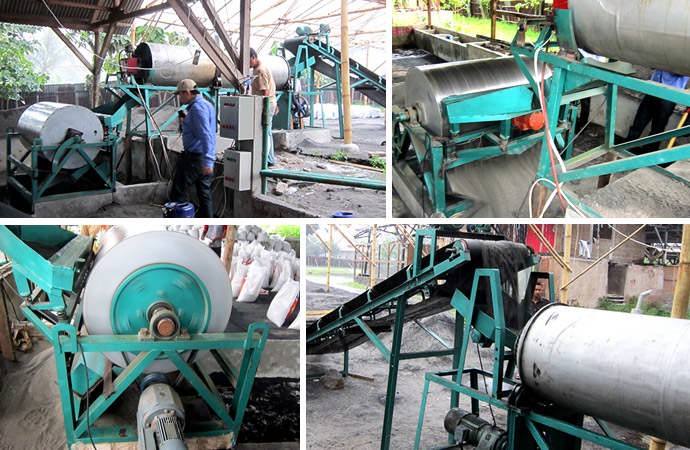 The Advantages and Benefits of Magnetic Separator:
1) Short magnetic circuit,
2) little magnetic flux leakage
3) high magnetic intensity
4) low energy consumption
The Performance Characteristics of Magnetic Separator:
1. Fter medium and fine crushing, in order to improve the richness, the magnetic pulley is used for eliminating the wall rock in the iron ore.
2. To the un-deoxidized ore and send back for re-agglomeration.
3. To eliminate iron in the ceramic industry for improving the ceramic quality.
4. To eliminate iron in coal, foundry sand, refractory, and other industries.
Technical Parameter
Model
Cylindrical
dimensions
(D×L)(mm)
Belt
Width
(mm)
Magnetic
field
intensity
of cylinder
surface
Input
size
(mm)
Processing
capacity(t/h)
XCT465
400×650
500
Customized
range
1600-4500
gauss
<70
5
XCT565
500×650
500
<70
10
XCT665
600×650
500
<70
15
XCT68
600×800
650
<80
20
XCT758
750×800
650
<80
25
XCT7595
750×950
800
<80
30
XCT995
900×950
800
<80
150-210
XCT10115
1000×1150
1000
<80
350-430