The Handling Materials and Description of Shaking Table:
Concentrator table is also called Shaking table or Table concentrator, which is a mine selecting machine for fine materials and it works by gravity. It is widely used in selection of tin, tungsten, gold, silver, lead, zinc, tantalum, niobium, iron, manganese, ferrotitanium and coal.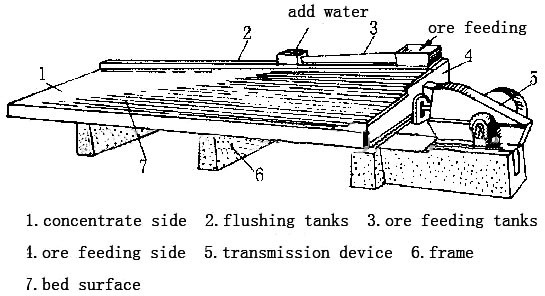 The Benefits and Advantages of Shaking Table:
1. Fine water-resistance, chemical resistance, corrosion resistance, abrasion resistance, etc.
2. We can simplify the repair and painting process, directly reduce the maintenance cost, and greatly increase recovery rate and prolong the life of machine which is the best product for mineral processing machine.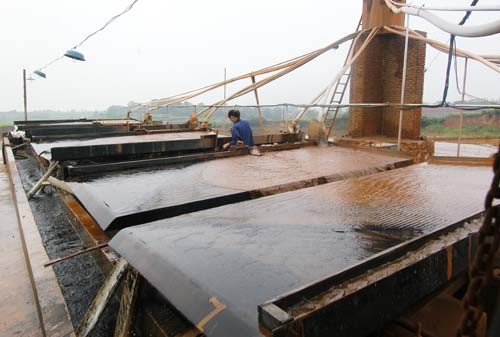 The Working Principle of Shaking Table:
Mineral separation by table concentrator is joint action of an inclined surface of bed with the aid of mechanical flagstone symmetrical reciprocal motion and thin layer incline current of water and so on and makes the ore grain on the surface of bed the loose lamination, thus enabling the mineral separation according to the density different.
Technical Parameter
Name
Grit
concentrator
table
Fine sand
concentrator
table
Sludge
concentrator
table
Bed surface
Dimensions
Length
(mm)
4450
4450
4450
Driving
part Width
(mm)
1855
1855
1855
Concentrate
part Width
(mm)
1546
1546
1546
Max.feeding
size(mm)
2
0.5
0.15
Feeding
amount
(t/d)
30-60
10-20
15-25
Feeding
thickness
(%)
25-30
20-25
15-25
Stroke
(mm)
16-22
11-16
8-16
Frequency
(f)
45-48
48-53
50-57
Bed surface
Water quantity
(t/d)
80-150
30-60
10-17
Bed surface
Horizontal
obliquity(°)
2.5-4.5
1.5-3.5
1-2
Bed surface
Portrait
obliquity(%)
1.4
0.92
----
Table board
corner(°)
32-42
40
42
Concentrating
area(㎡)
7.6
7.6
7.6
Bed surface
Length ratio
2.6
2.6
2.6
Shape of
side-bed
surface
Rectangle
Zigzag
Triangle
Motor
power(kw)
1.1
1.1
1.1
Transmission
device
Eccentricity