Mining Equipment
General Understanding of Mining Equipment
Mining, as a heavy industry, mainly deals with mineral ore. Therefore, mining equipments become vital parts to lift mining efficiency. Popular mining machines include mining crushers, mining feeders, mining spirals and so on.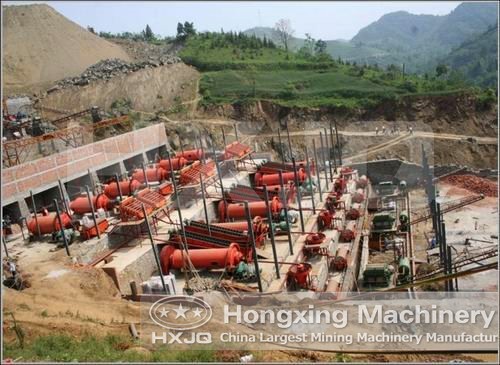 Extensive Views of Mining Crushers
There are various kinds of crushers among which jaw crusher is most common one. Jaw crushers also have diverse varieties, namely PE series jaw crusher, PEX series jaw crusher and mobile jaw crusher. They serve as the primary machines when crushering raw materials. Primary jaw crusher is typically of the square opening design, and secondary jaw crusher is of the rectangular opening design. Jaw Crusher reduces large size rocks or ore by placing the rock into compression. A fixed jaw board, mounted in a 'V' alignment is the stationary breaking surface, while the movable jaw exerts force on the rock by forcing it against the stationary plate. The space at the bottom of the 'V' aligned jaw plates decide the crusher product size gap, or the size of the crushed product from the jaw crusher. The rock remains in the jaw until it is small enough to pass through the gap at the bottom of the jaws.
An Overview of Mining Feeder
When it comes to mining feeders, people will naturally think of vibratory feeder. Acturally, other feeders can also finish the work done by vibrating feeder. They are chute feeder, pendulum feeder and shaker feeder. Chute Feeders are widely applied in the coal transmitting and thermal power plant. They can also be used in Construction materials, Chemicals, Metallurgy and Mine departments etc which feeds bulk materials that is lower than 300°C. The working theory is similar to the vibrating feeder that adopts the to-and-fro movement to discharge the materials. The feeding particle size should be within 350mm.
Chute feeder not only can be set up on the ground but also lifting in the warehouse unloading ore at the mouth. Backplane make reciprocating motion, the stroke time is 20-60 times/min, stroke is 20-200 mm. Stroke may be appropriately adjusted by the driving device eccentric wheel and the eccentricity is half a stroke. According to some mill practice, the viscous minerals, eccentricity should not be less than 30 mm. Feeder trough width is about 2-2.5 times of the largest feed particle size. The largest feeder trough can meet the particle size of less than 500 mm to the iron ore mine.
Mining Spiral Description
Mining spiral is our company's concentrating experienced scientific product, which is the best concentrating equipment, especially for concentrating sand ore in beach, riverside, seashore and stream.The product is made of the fiberglass lined with wear-resistant polyurethane and corundum cover; the advantages are light, moisture proof, anti-rust, wear proof, anti corrosion and no noise, properly suitable for the different feeding particle sizes and grades. It possesses the domestic advanced level, the new highly effective equipment.