Spiral Chute Separator
Customized Spiral Chute Separator
Hongxing is a manufacturer and supplier of an extensive range of spiral chutes which are made with the best grade raw materials and are procured from trusted and certified vendors in the market.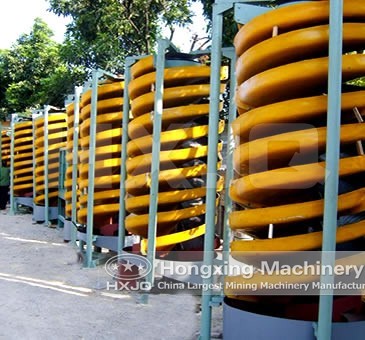 The product integrates the benefits of a spiral concentrator, a spiral chute, a table concentrator, and a centrifugal ore separator. It is ideal for mining and mineral processing applications, especially on riversides, strands, beaches, and river ways. Our spiral chute comes with reasonable structure, simple installation, easy operation, high capacity, light weight, low noise, good rust, and moisture and corrosion resistance. In addition, it is fully applicable to materials of different feeding granularity, density, and grades.
Gravity Spiral Chute Operation Rules
The chute uses a single shaker is not graded selection, resulting in 0.074 ~ 0.05 mm size fraction of the tin mineral recovery is poor, -0.05 mm single cassiterite basically no recovery, integrated tin tailings grade is generally 0.6% or more, the results metal loss, waste of resources, economic impact of mines.
When the ore pulp flows near the carved groove edge, vortex will be generated; ore bed will be thickened at the same time, which strengthens the loose stratification effect and the coarse but light minerals separated out from the middling band cross the groove to move outwards. The bottom heavy mineral flows to the inner edge along the groove guide. As a result, the middling quality ore volume decreases and the concentrate metal recovery rate is improved. The following table lists the contrast results of Gongchangling feint hematite ore's grade sand setting industrial test (one coarse, one concentrated process) done by spiral chute with and without carved groove.
Chinese Construction Chute
The chute is a highly effective economical gravity concentrator and is adapted to concentrate mineral ores, for example iron, tin, gold, limonite, manganese, chrome, pyrite, tungsten, niobium-tantalum, coal, monazite, zircon, and other metallic or non-metallic ores.
We have attained market application good results in re-clarification callback of the seashore erinaceous ore, iron ore, tungsten ore, tin ore; vitriol residue, gangue, as well as bud take off place. Its good effectiveness and results within the reclaim of the gangue and metallurgy residue have won good reputation.